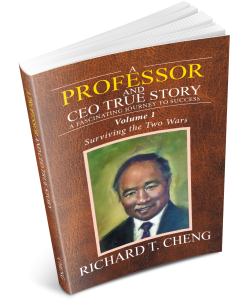 Surviving the Two Wars
This is the story of Richard T. Cheng's life and how he found success in the midst of overwhelming odds including a childhood ravaged by the civil war in China. It charts his adventures and extraordinary experiences all of which form a story that is poignant, inspiring and compelling to read.
---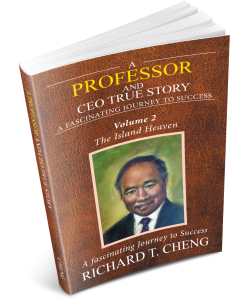 The Island Heaven
In 1985, Richard T. Cheng decided to give up his position as an eminent professor and chairman of computer science at Old Dominion University to establish a small company. Through less than five years of struggle, he achieved the goal of making it a multimillion-dollar company. In 1991, he received the largest contract the IRS awarded to a small company, which was for $240 million over six years.
---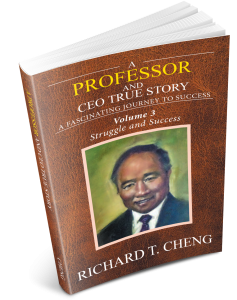 Struggle and Success
Richard T. Cheng struggles from studying in a totally different language to finding a job to sustain his living. He succeeded in teaching and being promoted to the eminent professorship at the age of 48. But he had unfulfilled a dream that was to bring computer to all language users. He started a small company and grew it to a multi-million-dollar revenue company in six years and obtains the largest contract that the government ever gave to a small business.
---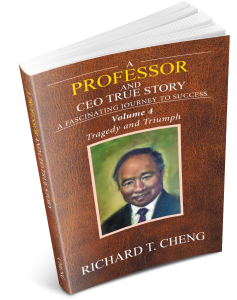 Tragedy and Triumph
 It describes the years in life's ups and downs the Cheng family had endured, the ups in life such as the awards bestowed on Richard  and the reward they had gotten from travelling with their good friends, to the world leaders they have met including the Presidents of the United States. The downs in life included losing their loved ones and friends to the bad things happened in business. But they had survived all of it and retired to enjoy the remainder of their life.
---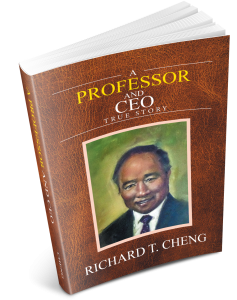 A Professor and CEO
In the darkness of night, he escaped the Japanese invasion of Nanjing and this was the first move of the following numerous moves. He had suffered a lot and yet having a lot of fun in the rural China until the war with Japan was ended. He returned to the ruins of his old home in Nanjing and lived there for nearly two years of peace time. When communists took over the mainland, he moved to Taiwan where he graduated from college and married. During his time in Taiwan, he ventured into many things that almost took his life.
He then decided to go to the U.S.A. For graduate studies. On the ship to U.S.A. the ship was hit by a typhoon. They lost in the high seas for days. He went to a college in Wisconsin where he met many nice people and later decided to stay in the U.S.A. Upon obtaining advanced degree in Wisconsin, he started his Teaching career. He then obtained his doctorate degree and was engaged in many universities to establish Computer Science programs. When he was appointed the eminent professorship. He started to think becoming a businessman.
There are lot stories about sweat and tears in building a business. He led the small company to win the USIA contract and continue to win contract with Navy, Pentagon, and Education Department. In one unusual opportunity, he led the company to win the IRS contract, which was $240 million for the life of the contract. He had won all sorts of award. The most important was given by President Bush in the White House.
---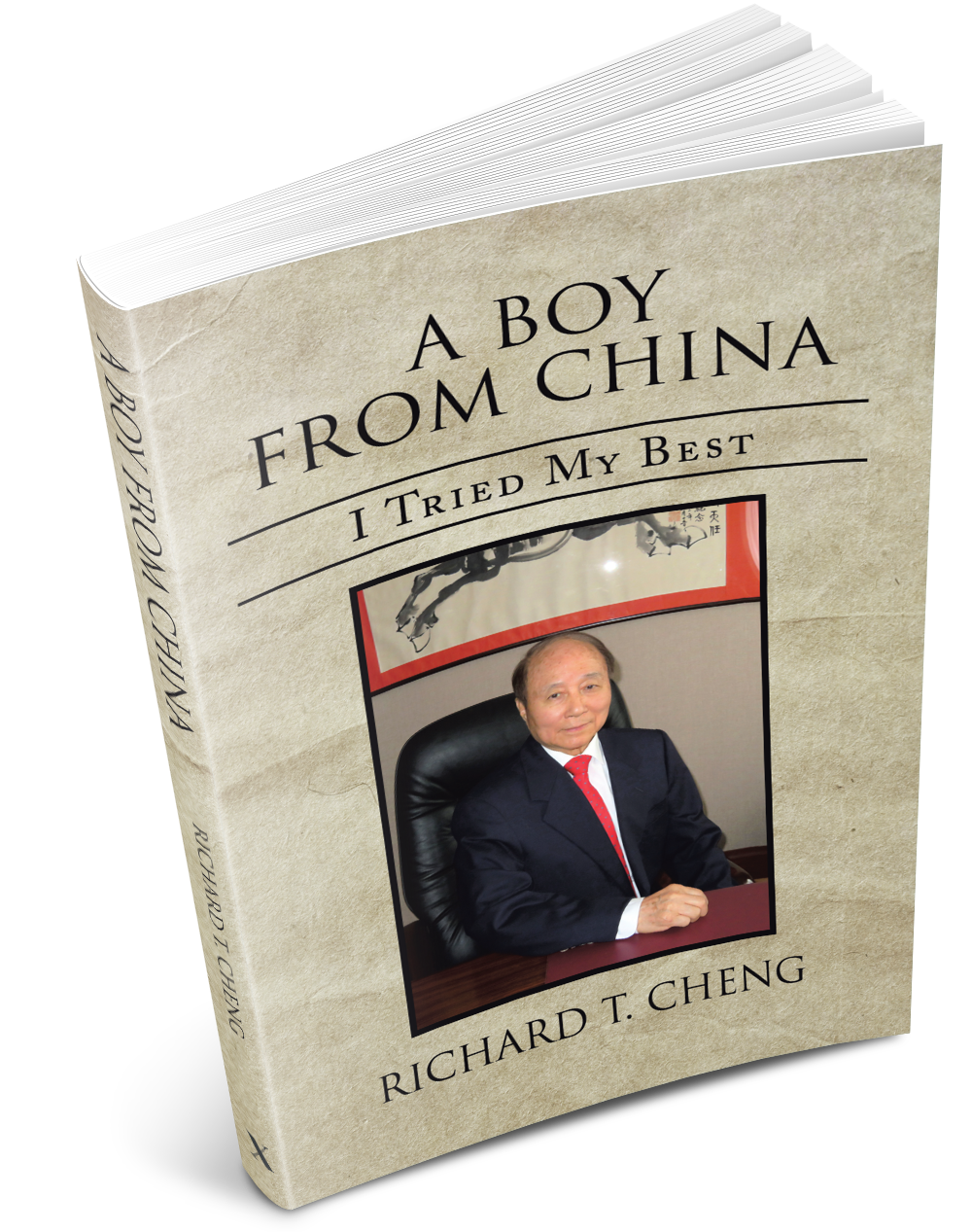 A Boy from China
A Boy from China—I Tried My Best describes the personal losses and awards in my later life. When I was fifty-eight years old, I transformed my life from a college professor's to that of a businessman. This book is my life experience.
I first suffered from the loss of my youngest son, which was most devastating to me. Subsequently, I lost my mother to cancer. The one person who was dearest to me was forever gone. My father, after he suffered from a bone fracture, died within three years of my mother.
I was lucky when I was in a long meeting and I discovered blood in my urine. After diagnosis, it was bladder cancer. Since it was discovered early, my doctor could operate on me and save my life. But my assistant Russ was not so lucky; with the same illness, he only survived several months, from beginning to the end.
In 1990, I won a large contract—$240 million—after two years' negotiation and bargaining. Thus, President Bush gave me an award in the White House. The region and the state of Virginia also gave me the Person of the Year awards. Transpacific Magazine wrote an article about me in May 1994 and called me the $240 Million Professor.
When I traveled to China, I caught pneumonia. There the hospital had no antibiotics except their own antibiotic newly developed in-house, called Pioneer Four. When the doctors administered the Pioneer Four on me, I responded well and I was cured.
In 1997, I was among the eleven delegates of the Committee of 100, to meet with Taiwan's President Li and China's President Jiang. In the meantime, I was an eyewitness of the Hong Kong takeover from the British. In 1998, I set up meetings between Dr. Pat Robertson and many
of the heads of Chinese government, including Prime Minister Rong-Ji Zhu and the religious leaders of China.
I revisited my long-lost friends and relatives and found out how they were doing. I had visited many heads of states and lectured throughout the world. In my retirement years, I traveled all around the world by land trips, ocean, and river cruises, many times with my poker buddies from Rochester, New York.